Embrace is a 501 (c)(3) nonprofit organization rooted in mobilizing college student volunteers to serve less fortunate members of civilian and military veteran communities.
Founded in 2000 by CEO Sean Sheppard, Embrace programs are designed to connect college student leaders to San Diego's multi-cultural community in the areas of social and physical wellness through service learning and volunteerism. The organization is built on the philosophy that serving less fortunate members of civilian and veteran communities brings people together - irrespective of their race, religion or cultural upbringing.
San Diego CW 6 News Interview at SDG&E Helping People In Need Kickoff Breakfast
Embrace Founder Sean Sheppard has been selected by the California Senate and Assembly to speak at the California Heroes Month press conference on September 2, 2014.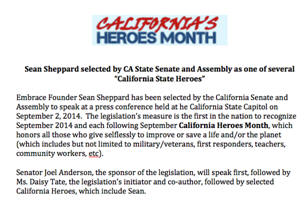 We are proud to present PRP Wine Consultant Duane Weekly with the Embrace Community Service award! Duane has donated his time, talent and treasure to assist Embrace with raising funds that allow us to serve disabled and homeless veterans.  Duane, you are a San Diego treasure and a great American - thank you for all you've done for our veterans! Read More to see other Embrace Award winners